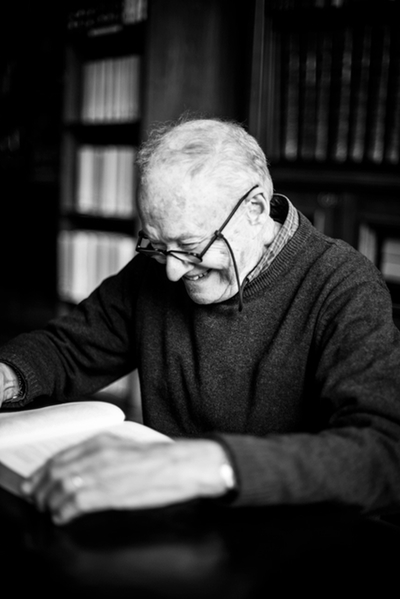 Born in Boston in 1930, Gerald (Jerry) Cinamon studied at Yale University's Department of Graphic Arts, School of Art and Architecture where his teachers included Alvin Eisenman, Herbert Matter, Paul Rand and Armin Hofmann.
After moving to England in 1960 he spent many years designing books and graphic work for various clients especially Penguin Books where he eventually became Chief Designer.
He has won numerous awards and his work has been included in the American Institute of Graphic Arts 50 Best Books of the Year exhibitions and British Book Design and Production exhibitions (BBDP).
After leaving Penguin in 1985 his interests turned to lettering and design history. His writings have included studies of his former boss at Penguin, Hans Schmoller (Monotype Recorder, April 1987); the Glasgow-style designer Talwin Morris: Talwin Morris, Blackie and the Glasgow style (Private Libraries Association, 1987); the illustrator Alice B. Woodward: Alice B. Woodward (Private Library, 1989); the famed German letterer and type designer Rudolf Koch: Rudolf Koch; Letterer, Type Designer, Teacher (British Library and Oak Knoll, 2000) and Emil Weiss: Emil Rudolf Weiss: The Typography of an Artist (Incline Press, 2012).)
Jerry is a member of Letter Exchange, Calligraphy & Lettering Arts Society, Penguin Collector's Society (contributor to The Penguin Collector), the Double Crown Club, ATypI and the Art Workers Guild. He has lectured on the work of Koch, Ben Shahn, and his own work at Penguin.